The iOS operating system has not well recognized for causing its consumers a lot of headaches. But when it does have issues, fixing them is almost always extremely difficult. The most frequent iOS issues are those that prevent you from taking any action such as a black screen. It prevents you from taking any action, a device stuck on the Apple logo, update failures, etc. Let's see how can we Fix iPhone Stuck.
When these things happen, customers frequently discard their smartphones and purchase a new one. Or they bring it to a repair shop and pay more money for an item that is not much expensive.
When the above problems arise, Joyoshare UltFix iOS System Recovery has been created to help you fix and recover your Apple devices. In our evaluation of Joyoshare UltFix iOS System Recovery, let's study each of its capabilities in detail.
Joyoshare UltFix iOS System Recovery Review
Software called Joyoshare UltFix iOS System Recovery is accessible on both Windows and Mac computers. It means that you must download the installer to your device and click a few times to quickly install the software. The biggest benefit of this is that you can use the software even when you have not connected to the internet. Let's study each of its key features which help you to Fix iPhone Stuck.
Main features of Joyoshare UltFix
Issues it can deal with
Joyoshare UltFix iOS System Recovery can handle basic problems as well as complex and critical ones.
The most frequent problems are when a device becomes stuck on the Apple logo, vertical lines on an iPhone screen, DFU mode, recovery mode, or when a screen becomes blue, clacks, or white and it stays there.
It's also possible for an Apple iPhone to experience problems while updating its operating system (iOS), and this is actually rather common. If something goes wrong during the update process, the gadget can become stuck and incapable of performing any actions. Including turning it on by itself. Read More About : logo generator app
These are all widespread problems that Joyoshare UltFix iOS System Recovery makes simple to solve.
However, Joyoshare UltFix iOS System Recovery can also handle more significant difficulties like iTunes failure or connection troubles.
Guided procedures
Launch the app and follow the advised instructions whenever you need to restore your Apple device with Joyoshare UltFix iOS System Recovery. It explains all you need to know in words and illustrations. Including when to connect your device, what buttons to click, and other instructions.
Beginner proof
With Joyoshare UltFix iOS System Recovery, anyone, even a beginner, may fix their device. One iOS repair tool is all you need to prepare for anything bad that can happen to your Apple device. So you won't have to pay to get it fixed or unlocked.
Compatibility
Using a Mac or Windows computer and Joyoshare UltFix iOS System Recovery, you may recover your iPhone or any Apple device. Two versions of the software are offered so that you can use it with any computer.
You need just 200 MB of hard disk space and 256 MB of RAM for it to run. It is compatible with iOS 7 and later as well as Windows XP and higher. This means that you can still use an outdated computer with Joyoshare UltFix iOS System Recovery to repair your Apple device.
How Joyoshare UltFix iOS System Recovery works
As noted before, Joyoshare UltFix iOS System Recovery offers a step-by-step process to resolve any problem that can arise with your Apple devices. However, we can differentiate a Standard Mode from an Advanced Mode.
Standard Mode
The Standard Mode enables you to restore your device without losing any data when you need to repair typical problems. For example, an iPhone locked in Recovery Mode.
Simply connect your device, choose Standard Mode, and the device you just connected, then follow the on-screen instructions.
After downloading a firmware package, the program will instantly begin restoring your device.
Advanced Mode
Use the Advanced Mode only when the Standard Mode is unable to resolve your device's problems because it will wipe all of your data.
You must activate your device's DFU Mode in order to complete this procedure. On the display, there are instructions for doing so (it only requires pressing a few buttons).
The process then proceeds similarly to the Standard one, with the software downloading and installing firmware on your device in order to restore it.
When the process is finished, you can click Done to disconnect your device from your computer in both Standard and Advanced Modes.
Steps to Use Joyoshare UltFix
Step 1: Install Joyoshare UltFix on your PC and connect a reliable USB cord to your iPhone. To begin, press the Start button.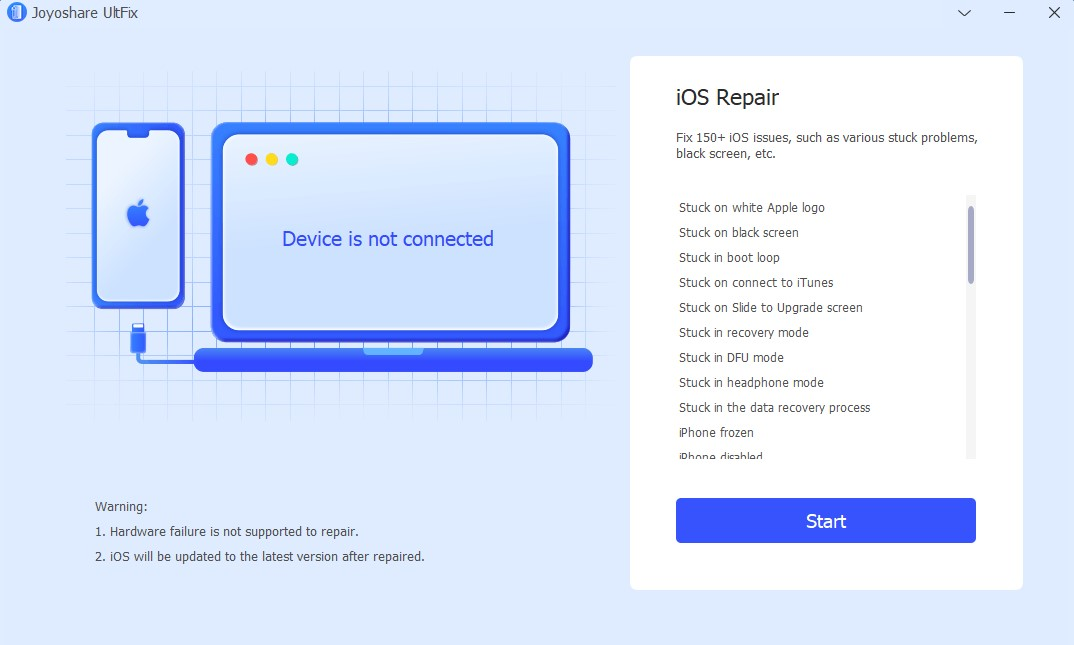 Step 2: Next, a mode selection window appears. To fix the iPhone's volume issue, check the box for Standard Mode. Next, press the Next button. Please take note that using Standard Mode does not result in data loss.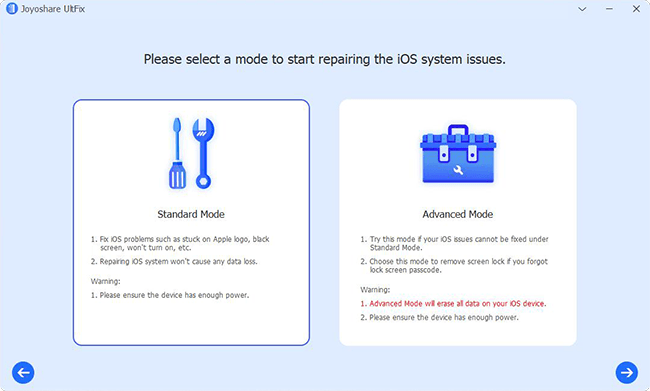 Step 3: Enter the DFU or Recovery mode on your iPhone. When Joyoshare UltFix asks you to do something and you are unsure how to proceed, there is a guidance on the page.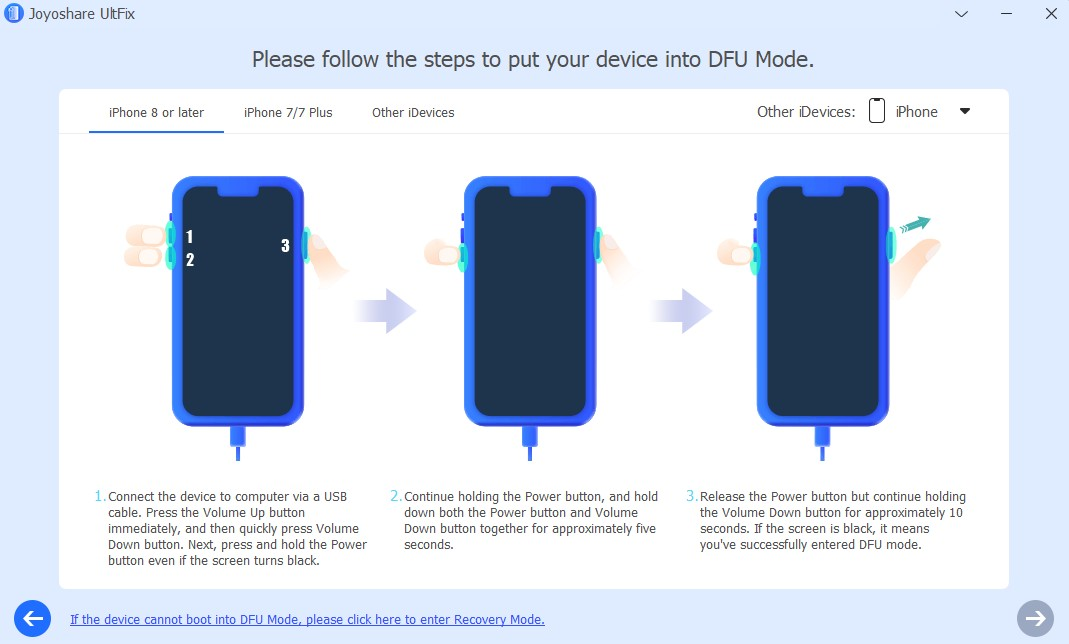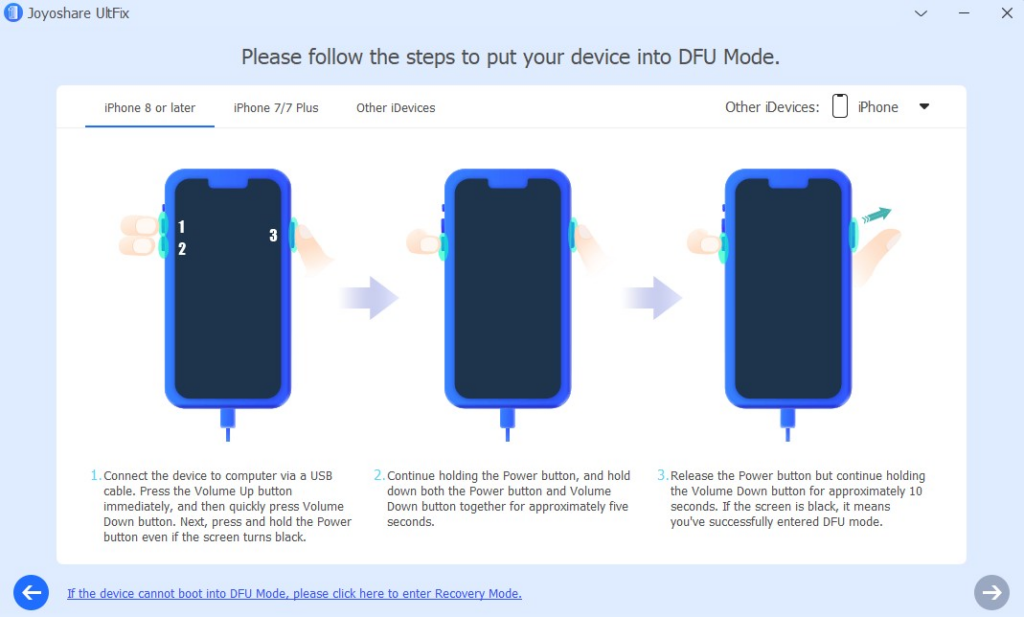 Step 4: To download the firmware package, click the Download button. Remember to verify the information of the automatically identified iPhone is accurate, before doing that.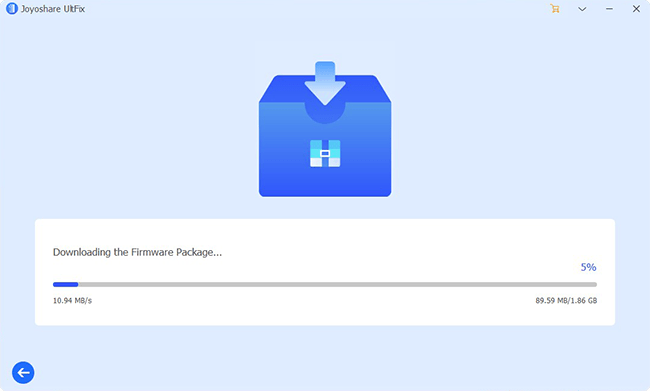 Step 5: Finally, click the Repair option to unzip the firmware package and fix your iPhone's volume issue that keeps going up/down.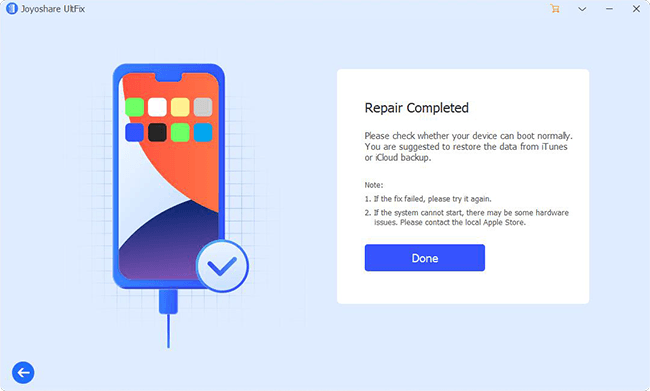 Joyoshare UltFix iOS System Recovery: Pros & Cons
Pros
You may use it to resolve practically any problem with an Apple device.
You can restore your device in Standard Mode without losing any data. Both Windows and Mac machines can use it.
Really user-friendly
Cons
The yearly and lifetime licenses are much more cost-effective for the price than the monthly licensing, which doesn't seem practical.
You can Fix your iPhone Stuck easily.
Conclusion
Joyoshare UltFix iOS System Recovery isn't free. It can help you save a lot of money when an Apple device problem arises. You can purchase the software that you can use whenever you want and that costs less than any third-party repair service. I think you got an idea about Joyoshare UltFix iOS and how it works to Fix your iPhone Stuck.