Sometimes it's a nightmare to enjoy the warm weather and work together. When using a laptop in the sun, charging the battery, and having a poor screen are all common problems.
So, how can you work in the sun without getting sunburned or overheating your laptop? For an optimum experience, you have to use your laptop carefully in the sun. Sit facing the sun, wear dark clothing or sunglasses, and many more tips will help you use it in the sun.
If you have an old laptop, then it'll cause overheating issues soon, and for that, using a laptop stand can save you. Without further ado, read on for some helpful ways we've learned to keep the laptop safe in this hot weather.
How to Use a Laptop in the Sun
Throughout the summer, when you love the sun and want to enjoy it, but you've to work. Nothing tempts like grabbing the laptop and heading outside with a beer to soak up the rays.
Take precautions to protect your laptop before heading to the sun. Here's how to use a laptop in the sun to avoid going screen-blind-
● Increase the Brightness of Your Laptop
When you decide to work outside, you'll need a bright display so that you can read and watch even in high daylight. A laptop with the brightest screen for outdoor use should produce more than 350 nits brightness. However, most of the laptop has 200-300 nits of brightness.
● Safe Range for Temperature
Most computers are safe to use in temperatures ranging from 50 to 95 degrees Fahrenheit (10 to 35 degrees Celsius). Anything hotter than this will be a disaster. Laptop batteries are very heat-sensitive, and this can cause permanent damage and hard drive failure.
● Give Your Laptop a Chance to Adjust
Shut off your laptop if you're going from cool air conditioning to scorching heat or from outside to inside. Make sure it has enough time to acclimate to the new temperature before you restart it.
● Pick a Spot in the Shade
Set your laptop up in a shade where it can't catch direct sunlight. It'll help you to watch the screen quickly and prevent it from overheating too.
● Invest in a Laptop Hood
A laptop hood or laptop cap can cut the sunlight rays from hitting the screen. To reduce the glare, it's made of black from the inside along with white on the outside. Don't cover the air vent while you're outside, cause it can be the reason for overheating your laptop.
● Think About Your Wardrobe Choice
Choosing dark-colored clothes that will reflect less the rays of sunlight than bright-colored clothes. Wear a cap or cowboy hat, which is attached with a brim. Now pull it in the low position to put your eyes in the shadow. Another easiest hack is wearing a pair of dark sunglasses, which will help to reduce the effect of the sunlight and clear your vision.
● Pick Outdoor-Optimized Laptop Models
If you're searching for a new outdoor optimized laptop, choose one with matte finish screens. Your laptop screen will appear less glaring. Alternatively, if you have an anti-glare screen already, you can purchase matte screen covers.
● Sit and Face the Sun
You have to sit facing the sun while you're working outside so that your laptop cuts out the sun. This technique will help your laptop catch any sun rays, and it'll prevent screen blindness.
● Fully Charge Your Laptop
Most of the laptop batteries have lasted for a full working day now, but the fact is you've to charge it before you start fully. Ensure your laptop is topped up while you start your work. This will ensure you don't need to sit near a wall socket in the middle of your work.
How to Care an Overheated Laptop in the Sun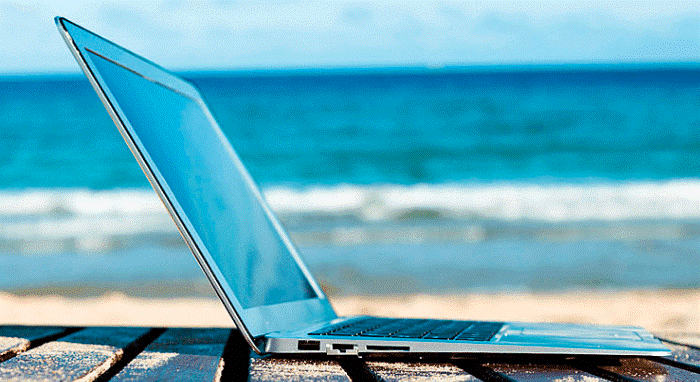 When you get that your laptop is overheating because of the sunlight, you need to take care of it. Here are some typical things to do on how to care for them-
● Make Sure the Fan Is Running
Commit sure if the fan is running well by placing your hand on the fan grille and checking the vibration. A broken fan can't dissipate the heat the laptop absorbs. It needs to be replaced as quickly as possible.
● Blow Out the Dust
Your fan can catch any kind of dust like food fragments, debris and this can worsen the situation. Use compressed air to clean the fan grille by angling the nozzle of the can. Once the dust is removed, the fan will run smoothly.
● Check Your Surroundings
Don't put your laptop on any cushioned surface when you're in direct sunlight. It may cause overheating, so; you have to put your laptop on a flat surface or a book. This can help to flow the air firmly. Make sure the weather is cooler than 95 degrees Fahrenheit before using it outside.
● Update Your Software
Though this is a rare case, you can check the software and firmware issues because sometimes they can also be the reason for overheating.
● Use a Heat-Dissipating Laptop Stand
You should know how hot your laptop can be from the sunlight, be cautious about where you place it outside. Use a laptop pad or stand or grab a self-cooling stand for a good effort. You can also acquire ones that help you change your workstation into a standing one, or depending on the model, even make it easier to work in bed.
Choose the Right Laptop for Outdoor Use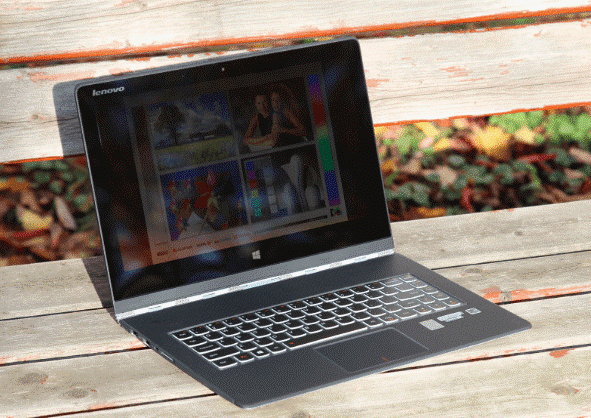 If you choose laptops, and the outdoors in mind, find something with matte-finish screens. Those with a shiny finish can be good indoors, but if you take them outside, they'll reflect the sun far too much.
Matte-screen laptops are hard to get by these days. However, not all screens are equal; specific glossy displays include design features that help them function well in the sun.
Additional outdoor-friendly characteristics are also included in some laptops with outdoor-friendly screens. For example, a sturdy chassis that protects your laptop if it falls.
Wrapping Up
You can use all these tips when using your laptop in the sunlight without facing particular challenges. Moreover, ensure that your laptop cases, as well as sleeves, are moisture and scratch protective. As a matter of fact, it'll protect your laptop from sudden storms.
From now, you're bound to have an exclusive outdoor experience with these little tips. If you've got more tips on using your laptop out in the summer sun, comment on the below section, we'd love to hear it.