Robot freedom fighter, part Hulk: The following hero for Overwatch 2 isn't quite brand-new. He first appeared to players more than three years ago towards the conclusion of the Storm Rising Overwatch Archives event. Ramattra is an activist for the Omnic race. At the Overwatch League Grand Finals on Friday. Blizzard Entertainment revealed the new tank-class character coming to Overwatch 2 in response to the event's cliffhanger announcement of a scary Omnic teaming up with the villain Doomfist.
On December 6, Ramattra will make his Overwatch 2 debut along with the start of the game's second season. He will be the 11th tank character in the game and will provide the tank group with a special mechanic: Ramattra can take two different forms. The regular Omnic form and the massive second version are known as Nemesis.
Ramattra uses a staff
Ramattra uses a staff that launches missiles during combat and has the ability to build barriers to shield his team when necessary in his regular Omnic form. Ramattra, however, may transform into a huge brawler with strong melee strikes that will terrify "squishes" on the opposing team when he hulks out and uses a cooldown ability. Ramattra was a pretty average-sized hero before his metamorphosis. Which made him one of the game's largest characters. Overwatch creators called the transition "frightening" and "menacing." He becomes more lethal when he transforms into his more combative Nemesis form, but this also gives him a much bigger target for attacks like Ana's sleep dart or Zenyatta's orb of discord.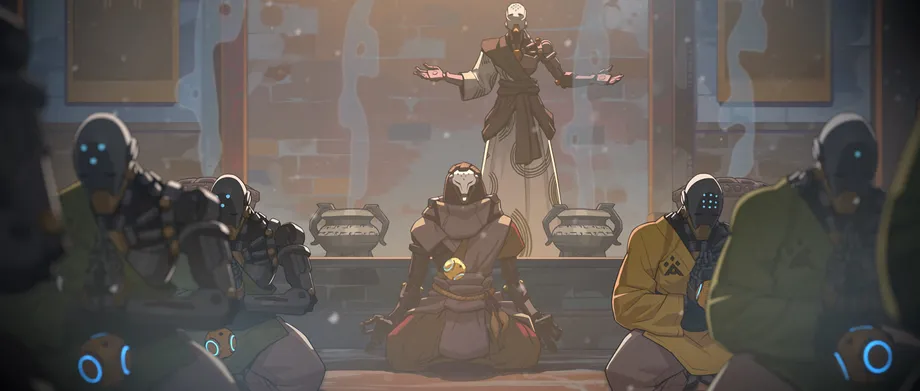 Ramattra, however, will provide tank players with new gameplay options, allowing them to choose between aggressively leading the charge into battle or defending their team with longer-range attacks and barriers. Lead hero designer Alec Dawson noted that his blows can break through barriers while he is in Nemesis form. Giving a counter to "bubbles" from heroes like Winston and Zarya.
During a press conference on Thursday, Blizzard avoided giving away too many details regarding Ramattra's ability kit or his stats in favor of concentrating on Omnic's role in Overwatch's story.
Ramattra was created as a war machine for the Omnic Crisis. But he put down his guns and sought peace with Zenyatta, according to Blizzard's official origin tale. Ramattra initially took the peaceful route before taking charge of the Null Sector and employing all available measures to ensure the survival of his people.
Lead narrative designer
Lead narrative designer Gavin Jurgens-Fyhrie remarked, "Omnics and humans have tried to cohabit. But as you've seen in the lore, that has not gone well for them. "Ramattra has grown impatient and weary of waiting. Together with a few partners. He founded this group to fight for the freedom and ultimate safety of the Omnic people.
Ramattra appears to be available to users through Overwatch 2's battle pass, similar to Kiriko. While other users will need to level up the accessible version of the key in order to acquire him. Those who purchase the premium edition of that pass will receive him right away. When asked if Blizzard intended to alter the required battle pass level for the release of Ramattra, 55 for Kiriko, art director Dion Rogers deferred. Stating that the Overwatch team is continuously assessing its strategies. For our team, it's a topic of continual discussion, according to Rogers.
A new terrain that has undefined ties to the new hero, according to devs. Will debut with Ramattra in season 2. In 2023, a new support-class character and more heroes plan for Overwatch 2.