A simple explanation of what an AI file is and How to Open an AI File Without Adobe Illustrator. Lets go ahead and see how to do it step by step.
Graphic designers normally work with vector images. The files are small but we can resize them infinitely. They are best for drawings, especially logos and symbols.
Most common type of vector images is AI files. It is a property of Adobe Illustrator. Therefore, opening an Ai file without it might be difficult. The way you doing it depends on what you want to do.
Simply, it is easy to open just for view. But for editing, it is bit difficult. Lets look at both methods in this article.
How to Open AI Files Without Illustrator
There are many ways to open and view an AI file. But not for editing.
Illustrator's default save options for AI files mean that the files are saved with embedded PDF material. It means you can view AI files with any pdf supporting app.
In windows, you need to change the AI file extension to PDF. For that, first highlight the file and click on F2. Then change the end of the file name as PDF and confirm the change. Then double click on the file and it will open in your available PDF viewer
In the case of MAC, you can see the preview of AI file without any change
You also can upload the AI file to the Google Drive and view
You can try Adobe Bridge, if you want to add the file to bigger collection of artworks and also if you have an easy method to look through it. This is one of a best free Adobe apps, it also allows you to open illustrator files.
In all cases, you will look at a flat and uneditable image.
Open AI Files in Photoshop or GIMP
If you want to add an AI image to a large artwork, you can do it directly by Photoshop or by its free version.
When you open a image in above apps, the image is imported as a PDF. An Import dialog box will appear, and you can usually accept the default options.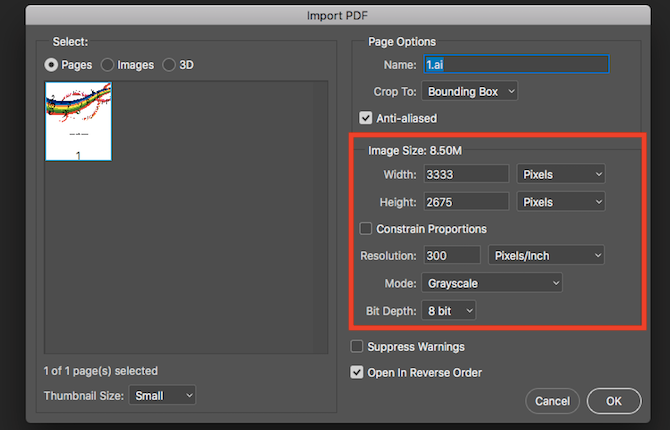 The most important thing to remember is to import files with large size. When importing, you will lose the benefits of vector graphics. Therefore, shrinking larger image to a small one is better than convert small image to a larger one.
When you're finished, you can copy and paste the image into another piece of artwork or add more layers to this file. After that, you'll have to save it in a different format.
If none of the above options work, change the file extension to EPS (a vector picture format) and see whether that helps. You'll need to convert the image to a different format if this isn't the case. That's what we'll look at next.
How to Edit AI Files Without Illustrator
Things get difficult, when you are trying to edit an AI file or when you download an Illustrator template. There are not direct apps to edit an AI file. You will always have to convert it first.
Convert AI to SVG or EPS Online
If you're trying to convert the file by yourself, first convert it into SVG. Though this is mainly developed for web use, it is an open format. If you are working in print, EPS is best.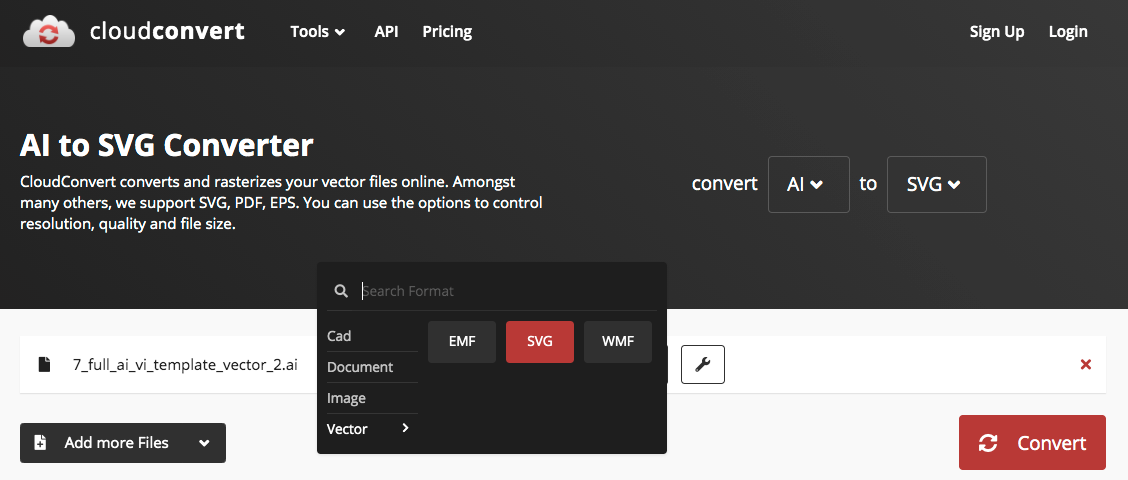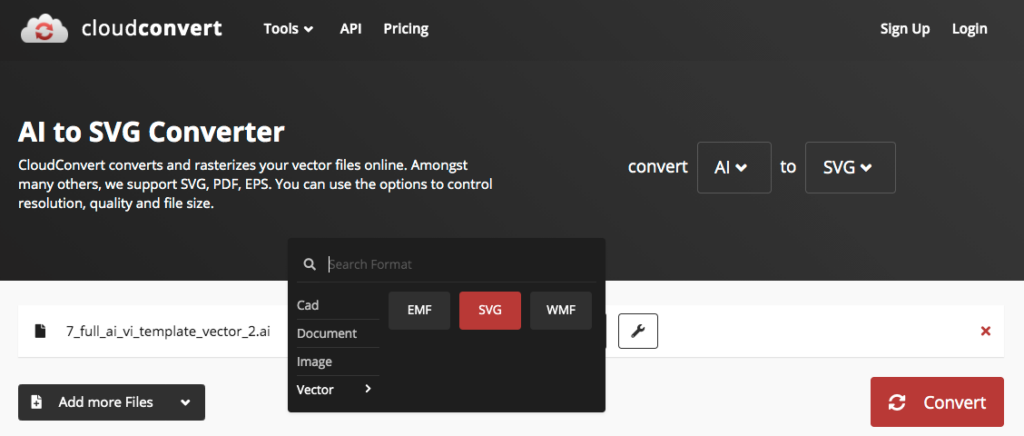 To convert your image, follow these steps.
Go to cloudconvert.com.
Click Select File and choose the file from your hard drive.
Next, click Convert to and choose either SVG, EPS, or WMF listed under Vector.
Although the text will no longer be immediately editable, your fonts will appear more accurate.
Select Convert and wait.
When it's done, click Download to save your newly converted file.
CloudConvert can convert up to 25 images a day. You can pay for a bigger allowance if you need it.
Problems With Editing Converted AI Files
Whenever you are trying to convert an AI file without Adobe Illustrator, you will face several problems.
The convertions are not always 100% accurate. This happens when the AI file using the features unique to Illustrator.
You will lose layer information. Because all of the elements are no longer identified. This might make complex files difficult to navigate.
You cannot save or export the edited file in AI form. Therefore, better to use SVG or EPS.
Need of editing depends on, what software you use. Here are some apps you can use to edit.
Gravit Designer PRO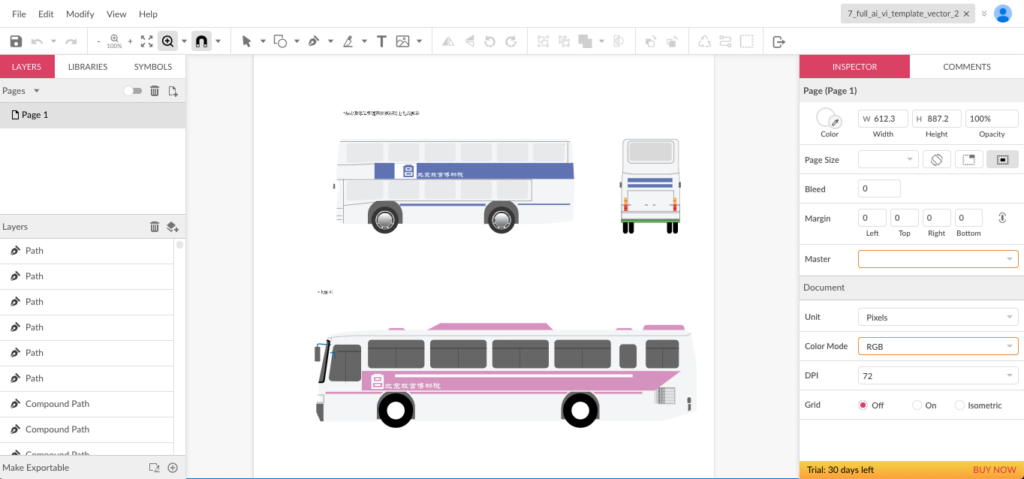 Gravit Designer is a good Illustrator app. It is a cloud based app drives on Mac, Windows, Linux and Chrome OS. You can open and edit the AI file directly from your browser.
You have to covert the AI file into SVG format. After that, drag into the Gravit Designer window to open it. All parts of the image are grouped into a single layer, but you can edit them individually.
This app is very modern and user friendly. Though, there is lot of power under the hood, it makes it easy to work with vector art. It is ideal for logos, icons and symbols. And also you can unlock more features by annual subscription.
Download: Gravit Designer PRO (Free trial available, subscription required)
Inkscape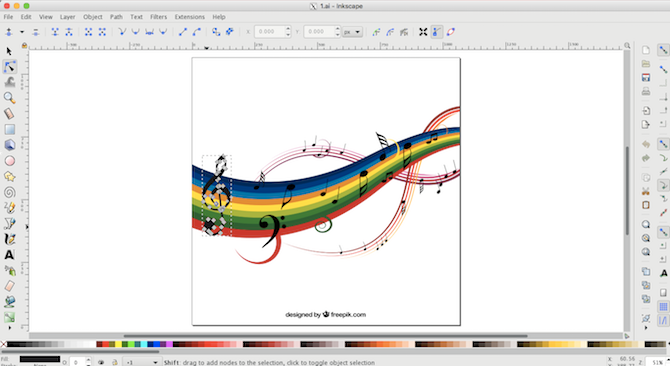 Most popular, open and free Illustrator app is Inkscape. It supports for Windows, Mac, Linux.
You can directly open the AI files in Inkscape. It does not support drag and drop. So you have to follow these steps. Files, then open and choose the document from hard.
Then you can import the AI file as PDF. You must first go through some Import settings similar to Photoshop (you can accept the defaults here). However unlike Photoshop, the output image is totally editable.
All the elements of the image are grouped together. The easiest way to choose a specific element is to click on F2. Then move your mouse over the image until the section you want is highlighted. Then click to select
You cannot save files in AI format. Save it as SVG or EPS format.
Download: Inkscape (Free)
Affinity Designer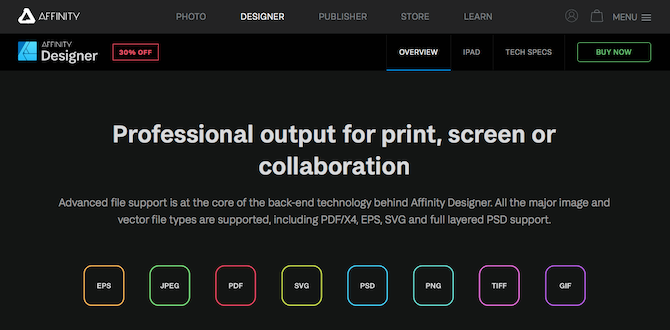 Affinity Designer is a professional graphic design program for Windows and Mac. We can grade it as best option for Illustrator. It aims at the same pro users as the Adobe membership. But it's a one-time buy rather than a subscription. it'll cost you less than three months of similar Adobe sub.
As long as the AI files have been saved with PDF content, the application can open them (the default in Illustrator). As a result, you will lose the layer information and will be unable to save the file in its original format.
If you want to open the edited image in Illustrator, you should save it in PDF, SVG or EPS format.
Affinity Designer is a popular, powerful app with many features. Anyone who wants to replace Illustrator, this is best.
Download: Affinity Designer (Free trial available)
CorelDRAW Standard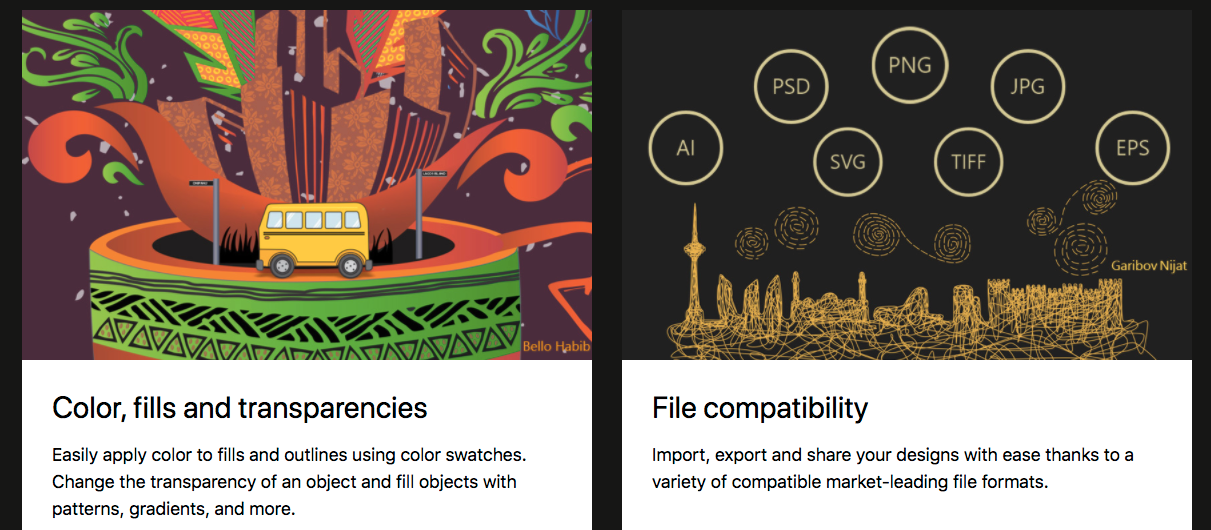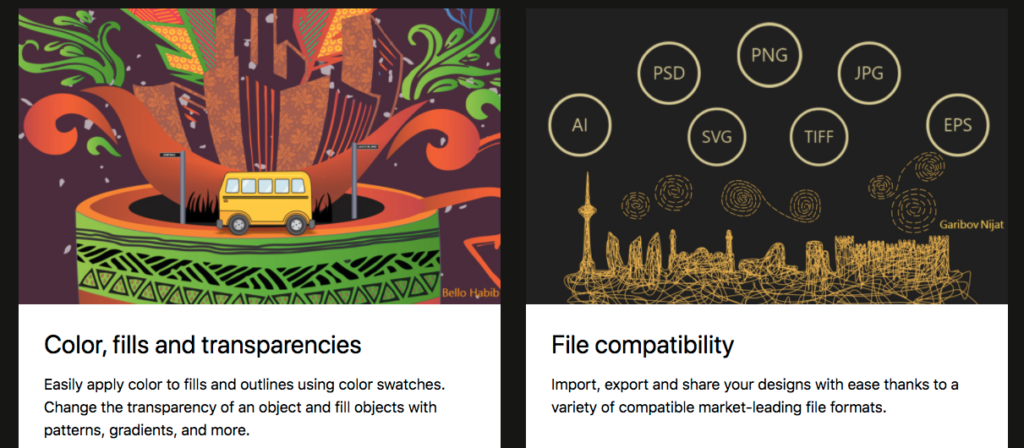 CorelDRAW is a Windows-based professional graphic design app. It aims at graphics professionals. It is bit expensive, but it's less expensive than an Illustrator membership in the long term. And also it includes full AI support.
To import your AI files, go to File > Import and then click on Import options (only for PDF-based files).
The main thing is to consider here is to show the text as a text (editable but may lose some effects) or as curves. The conertion is more accurate but text is not editable
After finishing editing the file, you can reexport it in AI format. However, if you have used a feature unique to CorelDRAW, Illustrator will not support.
CorelDRAW also makes Paint Shop Pro. It is the Photoshop alternative. This can open and save the AI files directly but not ideal for vector graphics,
Download: CorelDRAW Standard (Free trial available)
Sketch
Sketch supports only for Mac. It is the best vector graphic software among Mac designers on a budget, If you want to open an AI file in Mac, this is ideal.
It has a limited ability to support Illustrator files. You can open it as normal, but it appears as flat, This is like Photoshop and not editable.
Some users saved the file as PDF from AI and it was successful. Choose a file on your computer and add the PDF to the end of the file name. To make the image editable , drag it into Sketch. However, your results may vary depending on the file's complexity.
Use CloudConvert to convert the file to SVG format is also good. As you cannot save the files in AI format, this is the best way to ensure that you can open the file in Illustrator later.
Download: Sketch (Free trial available)
Moving Away From Adobe Illustrator
Opening a any proprietary file without using the relevant app causes mixed effects. It is just like openinf a PSD file without Photoshop.
But for AI files, support is generally good with some exceptions. However, Illustrator is still the standard of the industry. It isn't necessary for causal users.