There are many concerns about the new iPhone 12 model. So,today's topic will be how to repair an iPhone 12 that won't power on at all. You can use the same techniques to deal with an iPhone 12 mini or iPhone 12 Pro (Max) that won't power on and is stuck in a dark screen that doesn't react to touch. So, How to fix iPhone 12 Won't Turn On?
After an update or restore, you may observe that the device screen has gone dark and becomes stuck when powering on, raising the possibility of a firmware breakdown or iOS flaws. Or you may be concerned that the battery is totally deplete because the iPhone 12 won't power on after abruptly shutting down and the screen stops reacting and stuck on apple logo some times. Both of these are legitimate worries, and other reasons why it abruptly shuts down and won't switch on include water and physical damage. But there are other possible reasons, such as a faulty screen or a damaged motherboard, which should also be checked first if your iPhone 12 does not turn on.
If you don't get a favorable answer for this issue, then, you should try TunesKit iOS System Recovery.
What is TunesKit iOS System Recovery?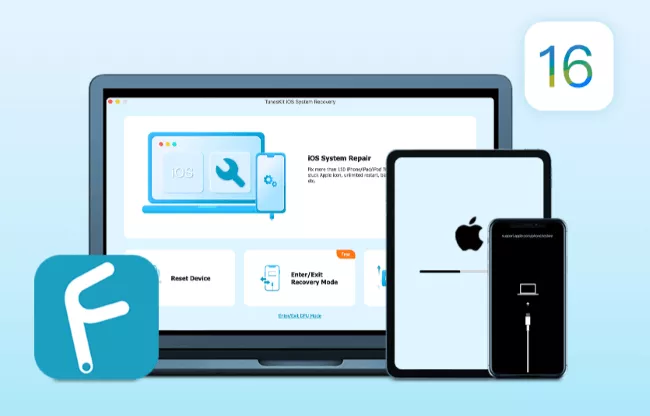 TunesKit is an iOS system recovery tool that can use to repair over 150+ iOS issues, such as an iPhone trapped on the green screen or in earphone mode. It can assist users in resolving their problems in a matter of seconds.
It allows you to fix the iOS system, reset devices, and enter or leave recovery mode, all of which are helpful features for iPhone users who need assistance getting their iPhones back to normal.
Furthermore, this software helps you recoup from major issues with your iPhone without having to think about service delays or wasting your hard-earned money on service costs. TunesKit enables you to recoup from even the most severe issues, such as failed iOS updates and data corruption. This program works on both Mac OS X and Windows.
Furthermore, it can help you rapidly downgrade iOS to a previous edition. You can also use this program to troubleshoot any issues that arise when using iTunes to recover or backup your device. Furthermore, when the iPhone becomes blocked, it can enter or leave recovery mode with a single tap.
Features of TunesKit IOS System Recovery
1. Every iOS version is fully supported:
TunesKit iOS System Recovery works with all iOS models, including the latest iOS 16. As a consequence, it can access and repair previous iPhones.
2. The interface is intuitive
The tools are well-organized on the primary screen, making it simple to select the appropriate answer for your iOS/tvOS device issue. Therefore, this tool is simple to use for both expert and non-technical people.
3. Outstanding iOS Standard Repair and deep Repair Modes
For different problems, this program has two unique modes which are standard and Deep Repair. If your device is having small issues, then select Standard Repair Mode. If the device does not function in Standard Repair Mode, then you can attempt Deep Repair Mode. It is Important to remember, However, That Deep Repair Mode Will erase all files on the linked device
4. Compatibility
TunesKit iOS System repair tool can use to restore your iPhone or Apple device on a Mac or Windows computer. The program is available in two versions, enabling it to use on any machine. Furthermore, it does not require a large amount of computer resources: only 200 MB of hard disk capacity and 256 MB of RAM are needed. It works with Windows XP and later, as well as iOS 7 and later. This means you can still use an old Computer to fix your Apple device using TunesKit iOS System Recovery.
5. Simple Method
The iOS repair procedure is quite straightforward. The device can be recovered in three simple stages. Simply select the right repair choice, then download the firmware file, and iOS will be restored to its initial form.
6. Beginner-friendly
Even the most inexperienced rookie can fix their iPhone using the "TunesKit iOS System Recovery" tool. You will not be charged to have your device repaired or untangled.
How to Use TunesKit?
Since you now know what it is, you must want to know how to use this TunesKit iOS Recovery tool the next time you encounter iPhone problems that disrupt your daily life.
I'll teach you how to use it with its most commonly used function, Basic Repair, in this section. However, before you can do so, you must first download and install it.
Step 1: After downloading and installing TunesKit on your PC, launch it, select iOS System Repair, and click Start.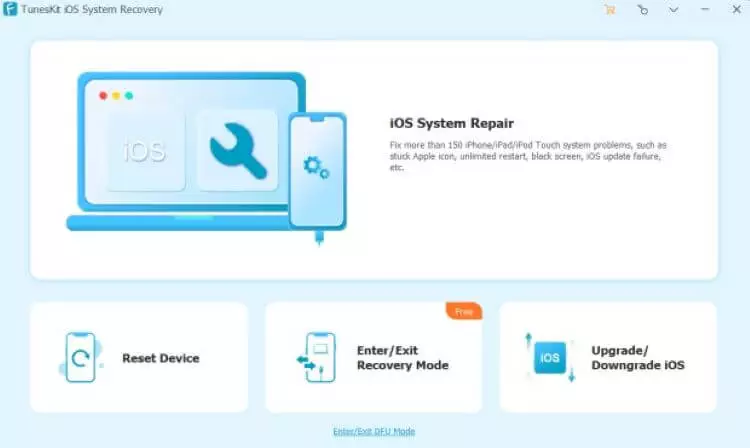 Step 2: Select Basic Fix and follow the on-screen instructions to boot your iPhone into Recovery Mode.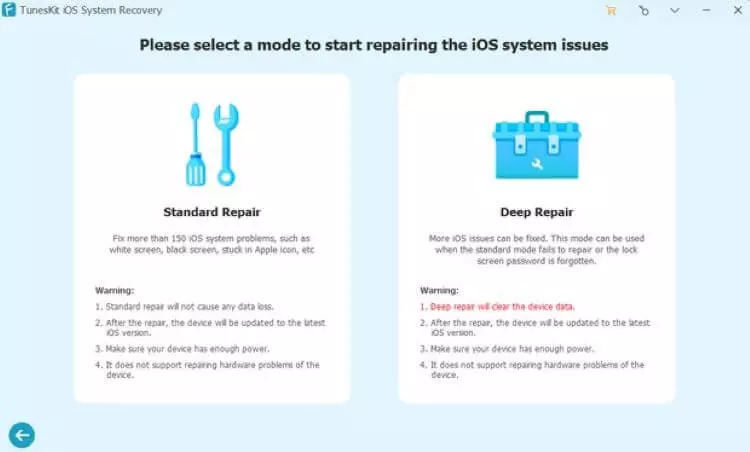 Step 3: After identifying your device, select to download the firmware file.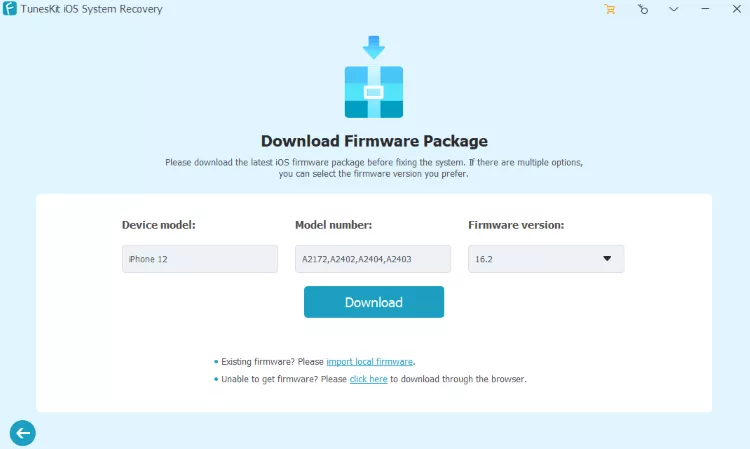 Step 4: To commence the procedure, click on Start Standard Repair.
TunesKit iOS system recovery has advantages as well as disadvantages….
Advantages
1. Free enter and exit from recovery mode.
2. Many iOS-related issues can be resolved.
3.Can upgrade or downgrade iOS instantly from the UI.
Disadvantages
1.When downloading the firmware, the repair procedure may crash and disconnect your iPhone abruptly.
2.On the UI, there is no way to restart your iDevices.

TunesKit iOS system recovery Prices
1-Month License – $29.95 (5 iDevice and Unlimited PCs)
1-Year License – $39.95 (5 iDevices and Unlimited PCs)
Lifetime License – $49.95 (5 iDevices and Unlimited PCs)
Is TunesKit iOS system recovery safe to use?
This is a genuine and secure iPhone recovery tool that can retrieve data from your broken iPhone or other iOS devices.
Summary
Software-related problems with iOS devices. The main advantage of this tool is that it does not require users to have any technological knowledge to troubleshoot their devices. It's important to note, however, that this program can only fix software issues on iOS devices. It cannot resolve hardware issues.
Overall, the software's features should make it simple to recover your iOS device from the convenience of your own house by simply pressing a button. The best part is that this iOS system fix tool comes with a 30-day money-back promise, so you won't lose any money.
To get a quick wrap up of this article, just watch the video below , and don't forget to subscribe our TunesKit iOS System Recovery you tube channel for more videos and information.