Meeting Assistant Apps can help automate meeting-related processes. Here are a few of the greatest ones to try.
AI can assist you in your online meetings. You'll need some powerful Meeting Assistant Applications.
AI technology used in everything, including meeting assistant tools. AI-powered Meeting Assistant Apps aren't just useful in meetings. These are also helpful in automating the post-meeting workflow.
Continue reading to find out which AI Meeting Assistant Applications are the finest.
Sembly is a free online meeting assistant powered by AI. It not only converts your meeting notes into searchable text, but it also analyzes operational meeting data to provide useful information.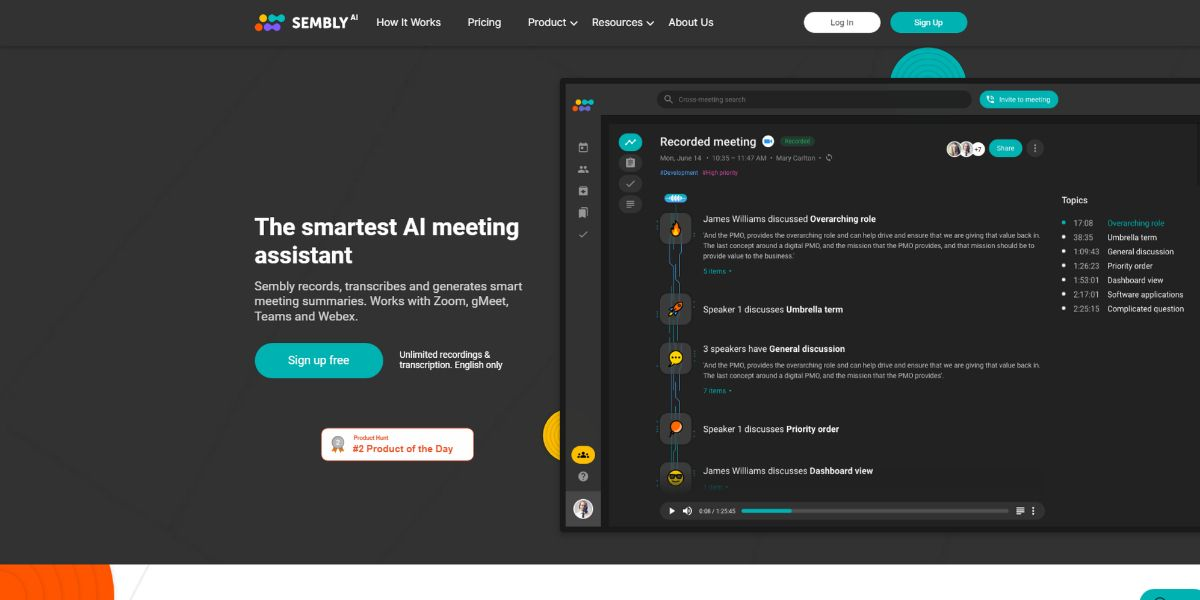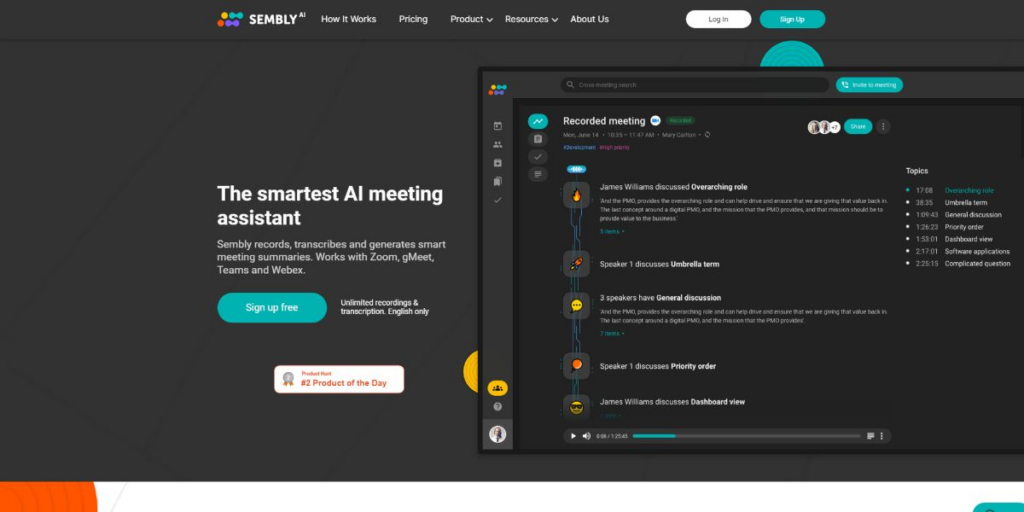 This app highlights the important points from the meeting transcript. It also creates meeting notes from the actions, issues, and requirements stated in the meeting. The meeting transcriptions can be easily searched, edited, and shared.
Sembly also detects your voice, learns your vocabulary, and understands your directions so that it can respond appropriately. To use Sembly, you don't even need to download anything. You can invite it to the meeting via email or a link, or you can use the app to sync with your calendar.
Fireflies is a free AI assistant that can record and transcribe your audio interactions in any online platform. You can refer to the transcriptions later if you need to.
Apart from that, it allows you to add comments or highlight key areas of the conference. You can also save time by utilizing this app to review a meeting by searching across action items.
You can upload audio files to the Fireflies dashboard for immediate transcription. To process audio and calls, you may easily link this product with Zapier or dialers. The software also has a Chrome extension. It allows you to record meetings directly from your browser.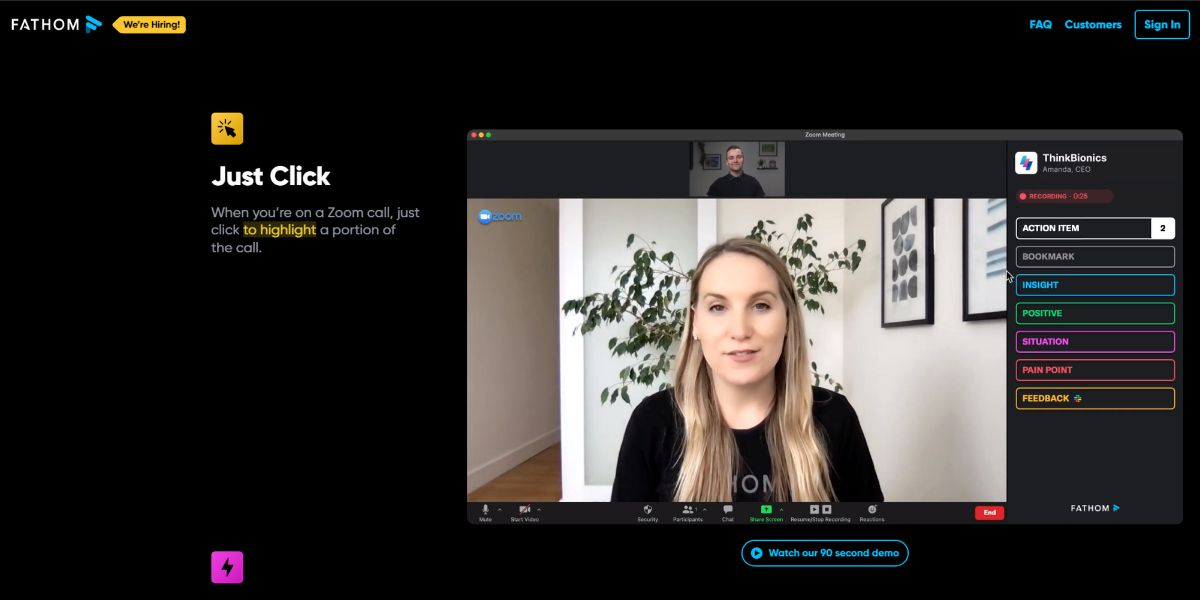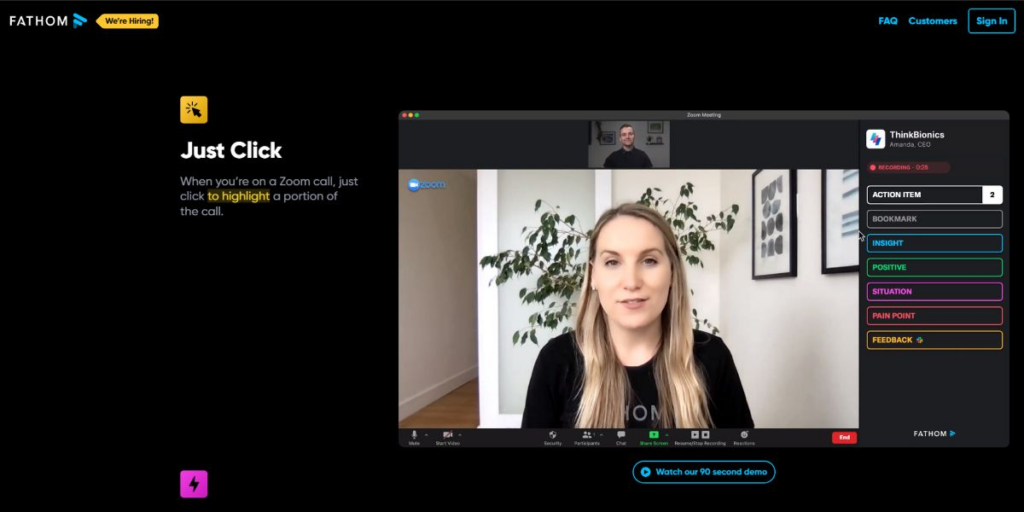 As soon as the conversation finishes, you'll get the fully transcribed call recording, as well as all the points you highlighted. You can share these highlights with your colleagues instead of meeting notes.
Slack, Salesforce, and Hubspot are just a few of the major apps Fathom can integrate with. You can also use systems like Gmail, Google Docs, Notion, Asana, and Todoist to move auto-generated call and action item summaries.
The Avoma app is recommended for those who wish to make meetings more actionable. This free meeting assistant has features that can be used before, during, and after the meeting.
Zoom, UberConference, Google Meet, Microsoft Teams, BlueJeans, and Lifesize are some video conferencing platforms it supports.
For both audio and video meetings, the app generates transcription and AI notes so you can focus on the dialogue. As a result, your chats become a searchable information source for the company.
Avoma not only automatically recognizes the speakers, but it also provides information on speaking time and the talk-to-listen ratio of each participant, which may be used to evaluate employee performance.
You can take notes in real time and comment on them with your team using this application. It adds a time stamp to notes and connects them to the meeting recording.
Notiv is a collaborative note-taking application that can record, transcribe, and summarize online sessions. This free program reduces the amount of time a team spends taking notes during meeting. As a result, it improves business outcomes.
This program automatically syncs with Google or Office calendars. It memorizes all of your scheduled meetings, whatever the platform is. Furthermore, it provides real-time transcription of the meeting.
Moreover, it makes use of AI technology to generate action items and tasks for all conference attendees with speaker ID. As a result, your meetings become searchable documents that you may consult at any moment to better understand the background of a decision.
This software works with Zoom, Google Meet, Microsoft Teams, WebEx, x.ai, and Slack, among other virtual conference solutions.
Are you still writing meeting notes? Switch to Otter. It is a free AI-powered assistant that will create meeting notes for you indeed. This application can also be used to take notes in lectures and interviews too.
With its advanced features, it improves team productivity and collaboration. The software automatically joins online meetings and records conversations before sharing them with other participants.
The recorded meeting transcript can also be viewed in real time. You can also use any device to play, search, edit, organize, and share the recordings.
To save time while listening to a long recording, speed up the playback. You may also use a summary keyword to search across the meeting notes or view all of its instances. Zoom, Microsoft Teams, and Google Meet are all supported by Otter.
Hendrix is the best tool if you're searching for an AI meeting assistant that will reduce the ineffective meetings. Thereby, helps your team to do their best job. Features like meeting notes and action items organization and recall, this effective and simple tool helps professionals.
This software will automatically transcribe and summarize the dialogue.
By scanning the transcripts, it also highlights the most popular subjects. You'll also notice a rise in engagement among your teammates, thanks to the tool's ability to highlight actionable items and their due dates.
Hendrix supports the widely used conference systems, such as Zoom, UberConference, JoinMe, GoToMeeting, WebEx, and other dial-in platforms. All you have to do is use the conference tool to call it from your unique dial-in phone number.
You also can search meetings data stored in a dashboard using meeting dates, attendees, places, and subjects with this tool.
AI for Advanced Meeting Assistance
As you can see from the above discussion, these AI meeting assistant apps can help a business improve because of their advanced features indeed. These solutions can automate a variety of manual processes, allowing your colleagues to do other necessary things.
You can use any of the tools mentioned to help you in a meeting. You may use AI-powered productivity tools to automate other tasks as well.